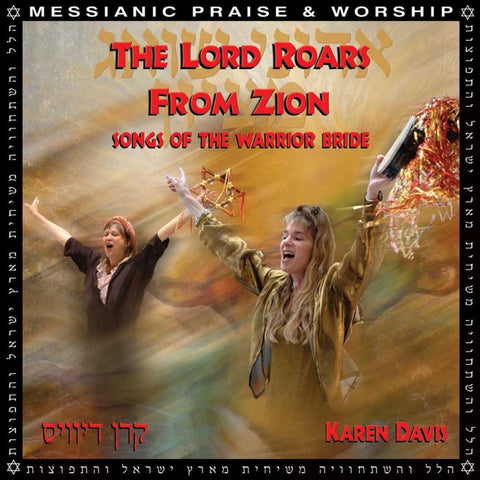 The Lord Roars From Zion
Artists on the Album:

Karen Davis

THIS ALBUM WILL INSPIRE believers everywhere to enter that secret place with the Bridegroom Yeshua (Jesus), and emerge as His warrior bride, taking their rightful place of authority, seated with Him in heavenly places (Joel 3:16, Isa. 31:4-5, Songs 6:10 & Eph. 1:19-23).

International recording artist Karen Davis brings forth a vibrant blend of Messianic Praise & Worship, recorded in the Holy Land in the Hebrew and English languages (one song includes Arabic as well).
---
Samples
| | Title | Duration |
| --- | --- | --- |
| | Deep Calls to Deep | 5:03 |
| | The Lord Roars - Introduction | 0:56 |
| | The Lord Roars From Zion | 3:50 |
| | Hoshia Na Eloheinu | 4:02 |
| | Baruch Adonai | 4:26 |
| | Let It Be Known | 6:19 |
| | The Lord's Prayer | 4:58 |
| | Behold the Lion | 4:26 |
| | The Word of the Lord | 5:05 |
| | Meshiach Yisrael | 5:15 |
| | Kadosh, Kadosh, Kadosh | 3:17 |
| | Yeshua Ata Yakar | 4:23 |
| | God Be Merciful | 5:45 |