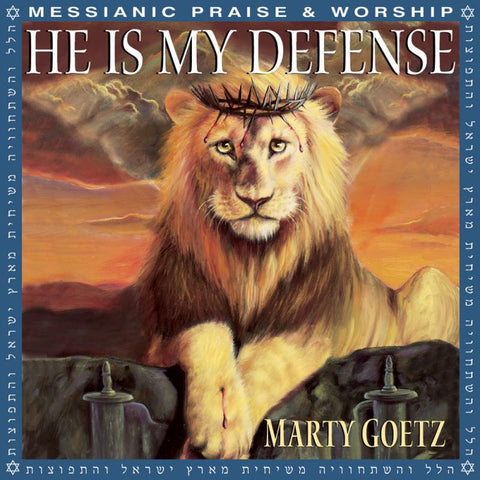 He is My Defense
Artists on the Album:

Marty Goetz

HE ONLY IS MY ROCK and my salvation; He is my defense; I shall not be moved. In God is my salvation and my glory; the Rock of my strength, and my refuge, is in God (Psalm 62:6-7). He Is My Defense is a timeless collection of Messianic Worship offered as a sacrifice of Praise to the Holy One of Israel. Yeshua (Jesus) is symbolically represented on this album cover as the Lion of the Tribe of Judah, the Root of David (Revelation 5:5), and the resurrected Messiah! Our sovereign Lord saves and defends His people by the power of His might and by His everlasting Word, which will never pass away!

May Marty's worship inspiring vocals, scripture based songs and melodic expressions of worship draw you into the presence of God, encourage you to proclaim each and every day, "He is My Defense, I shall not be moved!"
---
Samples
| | Title | Duration |
| --- | --- | --- |
| | He Is My Defense | 4:56 |
| | Lamb of God | 5:10 |
| | Ana Adonai | 3:12 |
| | Blessed is the Man | 4:09 |
| | Who Has Believed | 6:34 |
| | Hebrew Chant | 0:39 |
| | O Lord Our Lord | 5:09 |
| | For Zion's Sake | 5:22 |
| | The Spirit of the Lord | 4:52 |
| | O Holy One | 4:16 |
| | V'Ahavta | 4:15 |
| | One Thing I Have Asked of the Lord | 5:08 |
| | Hineni | 0:32 |
| | Hineni (Here Am I) | 5:38 |